Design Your Steel Garage Today!
Your Steel Garage Professionals
At Bespoke Steel Buildings & Cladding Ltd, we provide steel and metal garages that are functional for you. With a flair for customisation, every detail, from size and roof type to colour and openings, is in your hands.
Being exclusively UK-based, we understand the unique requirements of British clients. Our cold-rolled steel structures are not only adaptable but are also designed to meet your specific needs. When you think steel, think bespoke; think us – your trusted local partner in steel construction.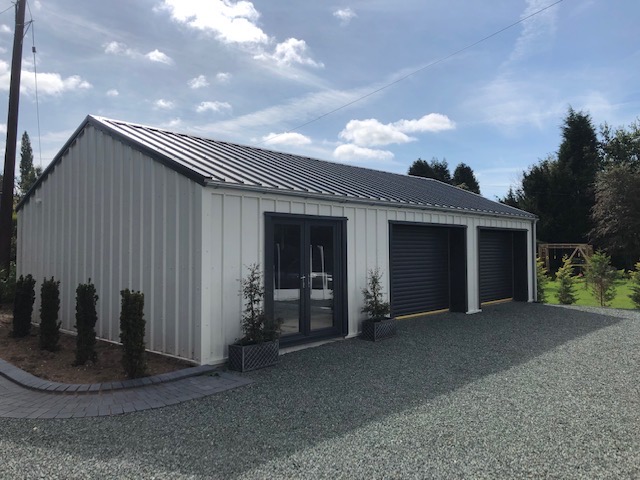 When it comes to quality steel frame garage solutions in the UK, our reputation precedes us. 
So, what sets us apart from the rest?
Unmatched Expertise

: With years of hands-on experience in the steel industry, we have refined our service to ensure your expectations are not just met – they are exceeded.

Tailored To You

: Every project we undertake, be it a

steel garage

or any other structure, is designed to resonate with your unique needs, creating truly bespoke spaces.

Commitment to Quality

: Based solely in the UK, our dedication is unwavering. From the very first design sketch to the final installation, we are set on delivering impeccable standards every step of the way.
Besides making steel garages, we provide services to keep them in good shape.
Cladding Renewal

: Whether the roof or walls, we breathe new life into your existing cladding, ensuring durability and aesthetics.

Insulation Upgrades

: Swap out un-insulated cladding for our top-of-the-line insulated options, enhancing energy efficiency and comfort.

Damaged Cladding Solutions

: We expertly renew and replace any damaged cladding, ensuring your structure remains safe and looks its best.

Trim & Rainwater Maintenance

: From trims to gutters and rainwater pipes, we ensure every part of your building is in optimal condition, preventing potential issues down the line.